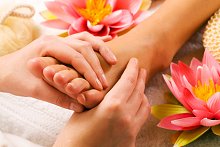 Reflexology in Swaffham, Norfolk
My name is Sarah and I run Reflexation Therapies. I am a qualified reflexologist and a member of the Association of Reflexologists, specialising in only traditional reflexology, facial reflexology and maternity reflexology. I work from my tranquil garden treatment room in Swan's Nest, Swaffham which is easily accessible from Dereham, Necton, Ashill and surrounding villages. Access to my treatment room is separate to my house and off street parking is available right outside. Reflexation Therapies is a calm and inviting space where you can relax away from the world and all its worries and take the time to re-balance, re-energise and re-focus.

My passion for reflexology started when I looked for alternative therapies to help with depression and headaches. I then decided to start training myself so I could help others to find balance and wellbeing in their lives. I am passionate about the treatments I give and the benefits they can bring, whether you have a specific health problem or would like to experience a better sense of wellbeing and more energy. Reflexology has been proven to reduce stress, improve wellbeing, as well as boosting mood and aiding sleep and relaxation.
Each treatment is bespoke and is designed to meet your own needs and if you are looking for a qualified reflexologist to help then please contact me for more information.

At Reflexation Therapies, we specialize in REFLEXOLOGY, FACIAL REFLEXOLOGY AND MATERNITY REFLEXOLOGY.

Reflexology: this is done on the feet and can help with relaxation and stress reduction as well as helping with other issues such as headaches, pain relief, digestive issues and many other conditions.

Facial Reflexology: similar to foot reflexology, it can address the same issues but also can give a deeper feeling of relaxation and has a brightening and rejuvenating effect on the skin. This treatment is particularly good for those suffering from headaches or sinus problems.

Maternity Reflexology: pregnancy can bring with it unpleasant symptoms that can make it more difficult to enjoy. Maternity Reflexology can help with these as well as helping to make the journey to motherhood more enjoyable.

I work predominantly with women in Swaffham covering Dereham, Ashill, Necton and surrounding villages. Male clients are welcome, based on the referral of a current client or telephone consultation only.